Cigarettes manufacturer pun Tak Nak.
Feeder 10:30pm: Oh pardon moi! I got the wrong info (see last sentence) the award winning Marlboro Ads below is the work of an individual, read his interesting story.
A SELF-CONFESSED tobacco addict, Piyush Pandey nonetheless wrote one of the world's most famous anti-smoking ads.
Actual Posting
.
I read time and time again on interviews towards people who can't
quit smoking
. But just one of those many answers sounded most logical to me,
"I can't live without the action of having the cigarette between my fingers, I'll miss the moments."
Oh! Another one that got to me was,
"It's the best thing that helps to enhance the way we express our emotions in silence."
-That's escapism-
Well, who am I to judge what you guys feel? I guess the nicotine content is a by-the-way thing, what's available is what u choose. In M'sia, the levels amongst available ciggy brands are almost the same anyways.
Do you know that Sarah Jessica Parker only smokes ciggy with cabbage leaf fillings while she was acting in 'Sex And the City'? Oh yeah, how unmasculine, bleaaghhh!!!
So that's why most girls opt for Cartier and Salem Lights to produce the same 'showmanship' at lower risks? But then the body will force you to double the intake anyways.
So this is what Philip Morris is calling out for, to let you keep the same lifestyle but in a safer way, but since when M'sians are known as idealists?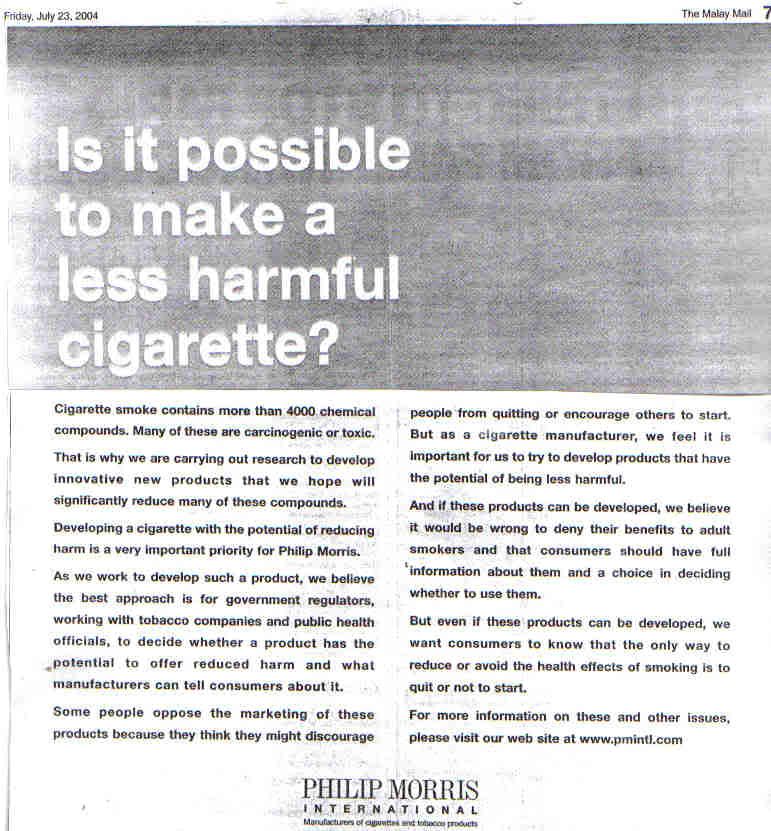 To read content click
[here]
RM100million paid to Lim Kok Wing for a 5 year contract of 'Tak Nak' campaign is a waste of money, coz who's scared of death, black lungs and black teeth.. come up with something new lah, kan? Who smokes and who doesn't is not 'Maine's' issue here, better make use of taxpayers money geniusly. I'm not gonna tell you exactly how coz I know no one will pay me intellectual property fees.
Many of us know that Japan produces ciggy with the lowest nicotine content (the ultra low - 0.1mg per ciggy)in the world. Our Philip Morris should've bought their 'recipe' or could've done it much earlier, but why didn't they? Why waste money on advertising the above? Real motive??
Keypoints excerpt from
'Sample Japan'
"THE CIGARETTE MARKET IN JAPAN IS THE SECOND LARGEST IN THE WORLD IN VALUE TERMS AND THE THIRD BY VOLUME."
"THE POPULARITY OF MILD CIGARETTES WITH LOW TAR AND NICOTINE CONTENT HAS GROWN SIGNIFICANTLY OVER THE PAST FEW YEARS"
"Japan tobacco is the sole producer of tobacco products in Japan." --note that they don't even plant their own tobacco!
DON'T SMOKE NEAR HORSE!
What's also interesting is since some countries impose 'etiquette advertising' for ciggy co's for tv ads to still allow them to help stimulate the economy.. they respond to it positively, like restrictions we see in F1 races.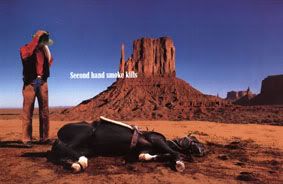 Second Hand Smoke Kills
I think, it will create a pull instead, if they put that picture on Marlboro ciggy box as limited edition product, it will sell like super hot cakes.
Marlboro, or rather Philip Morris itself had won an antismoking ad award for this!