Erti Ikatan Silaturrahim.
Darling Zacreigh,
One for dear diary.
You are sound asleep right now and we are well towards the end of mummy's maternity leave.
Tomorrow you will be 60 days old, and berat pun dah lebih dari 5 kilo! We're elated that you can lift your head up when you lie on your stomach, your smile makes us feel like we're in seventh heaven but your burps are as loud as an adult's! Hisap susu tu perlahan la sikit sayang, macam vacuum cleaner!
Mummy is enjoying maternity leave, especially the period after 44 days of pantang.
We have finished rearranging the whole apartment, the study now fits your play pen, toys, chest drawer, we just need a small corner for the study table and the book racks. There're so many places you can choose to sleep, there's the baby cot in my room, a mattress in the maid's room... another mattress in mummy's house, and a rocker in the living hall! That's because you sleep easily but wakes up at such frequent intervals, so we have to put you down quickly where you decided to doze off.
You are growing so fast. First, mummy was afraid of missing the feel of your hick ups in the stomach and how you make mummy's tummy senget sebelah when you feel restless of your normal position.
Then mummy was afraid of missing all your baby querks especially your cries and the way your little hands grasps and opens in response to the things happening around you and how you would make your mouth shaped the letter 'O' when you hear the birds chirping in the morning.
Know that when you were born Zac, when mummy was still suffering from after epidural backpain and managing the episiotamy stitches, many people came to see you.
Mummy felt very proud and ashamed at the same time. Ashamed that when they had their babies, mummy had never bothered to know, what not paid them a visit. It is the trouble mummy never thought was that important; building a good silaturrahim among cousins and friends with greater effort. You will learn the meaning of silaturrahim when you are older.
Zac, mummy and you and daddy must remember to these people. You got more than enough clothes and bedak to last you till college thanks to them: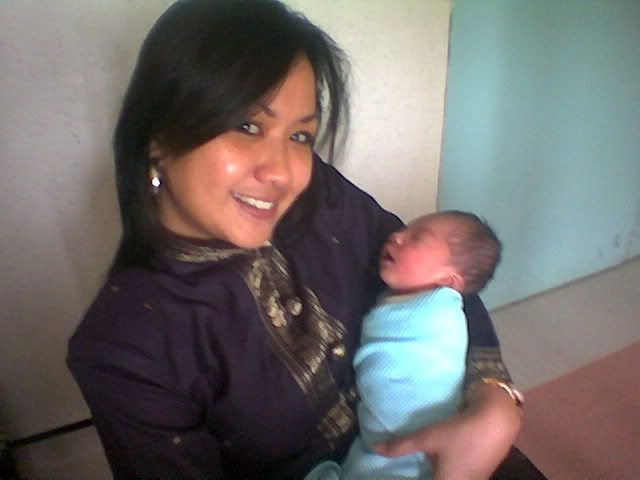 1. Aunty Abby who was the first person to basuh your berak and trimmed your long fingernails when everyone left for home to freshen up and I was lying down quietly with you in the hospital. Mummy only knew her in a short span of time at work and she's so kind to come and give all that helping hands.
2. Aunty Siti Zaleha who came to also visit you at the hospital. You know what! She conceived the month after that! She already has two sons, hopefully it's a girl this time.
3. Uncle Udey for taking mummy's pregnancy pictures and yours. He turned up at 7am to see you you know and he was also born on Raya Haji like you.
4. Tok Wan Kamaruddin and wife who already has 5 kids whom mummy don't even know their names.
5. Tok Che Ye and Tok Che Esah. Tok Che Ye troubled herself oh so much even from the day mummy got married, she was the one who looked for the wedding planner, David Kor. Uncle David Kor likes to trouble himself for his customers, he already gave so many free things to Tok Mummy when mummy got married, then he still bother to give you ang pau. You must one day see Uncle David's talent in craftsmenship and in raising two Muslims kids all by himself. Tok Che Esah whom mummy and daddy have not met got you your first Baby Guess outfit with pretty little fish motives on it. We must visit her one day.
6. Aunty Lynn, whom mummy regards as a sister. Mummy felt sad that mummy has to miss her farewell party and see her fly off to UK, mummy stayed home anyway because it was almost labour period. She's so happy in UK now and mummy knows she'll definitely meet her new flame there.
7. Uncle Saiful and aunty Lin. Uncle Saiful is mummy friend for the past 11 years, so mummy sees him more of a brother.
8. Uncle Iskandar and Aunty Raja Kamariah, they brought a unique gif t for you, a sheep soft toy that makes the sounds of wave, rain and mother's heartbeat. It is supposed to put you to sleep and make you feel safe, but it made us to go sleep instead. Their daughter, Dian is really cute but she's older than you are... too bad.
9. Uncle Rizal and Uncle Raj, they are so young yet they have the courtesy to pay baby visit.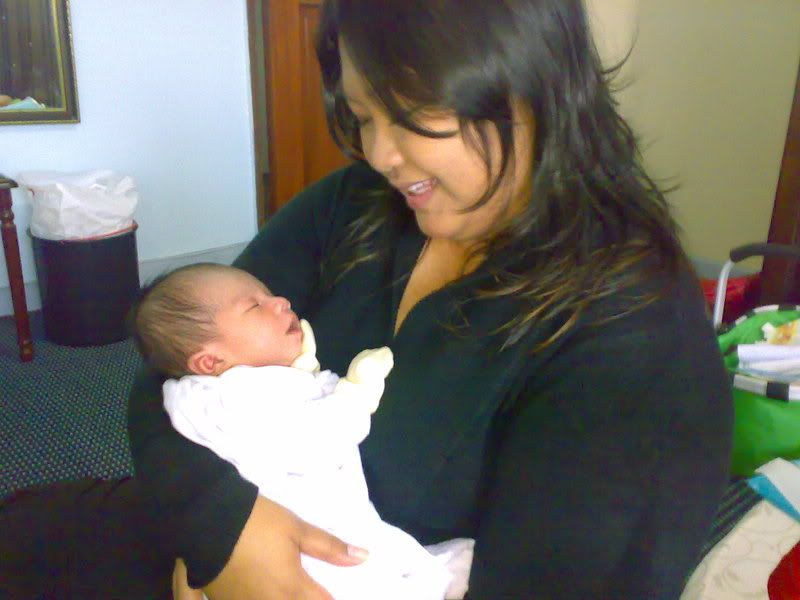 10. Aunty Arne and her husband, she's so pudgy that when she held you, you fell fast asleep. Her husband and her are such jokers. Hopefully she's able to conceive soon too. She makes a lovely mother.
11. Aunty Didi and aunty Didee. They are not friends to each other. Aunty Didi is mummy's office mate, mummy's attending her wedding soon! But Aunty Didee's wedding is one week earlier! She wants a baby as soon as possible too 
12. Aunty Munira and Uncle Isa (mummy & daddy's landlord). They gave you a new aircond, renewed the cooking hub and even handed you new clothes. What a blessing to have such a landlord kan schpikhm!
13. Aunty Janice, mummy's ex boss. She gave you your first gold bracelet saying. Mummy don't know what to say, there's enough gold given to us by her since mummy got married. You must get to know her as a friend too, she's such a lovely and gregarious lady.
14. Mummy's colleagues gave you money for your savings. For that, mummy must remember to cook something and send over for everyone to makan.
15. Daddy's friend Mancung came all the way from Seremban to see you. He looks like a bachelor, I guess because he's an avid cyclist but he has 5 children you know!
16. Aunty Nana who is going to be your new Mak Su, she got you a little jersey from Bangkok. She makes good cheese cake you know, maybe we can order one from her on your birthday.
17. Aunty Ida and Uncle Ashraf, you received so many things from them. You look so cute in the mouse outfit when we go to Ikano yesterday.
18. Aunty Shaliza, mummy's kawan lama her advice on how to be a good baby minder is one of the best, that's how mummy and daddy tried to manage you from getting colicky.
19. Aunty Ching2, mummy's kawan lama who came back from UK for Chinese New Year, you got two boxes of Baby Gap stuff from her! You should get to know her son, Matthew who was conceived shortly before mummy and daddy got married.
20. Uncle Lan and Aunty Sabrina, they are daddy's friends who gave us a lot of information on where to send you for your first education. Uncle Lan has been accompanying daddy a lot while he gets bored staying home during mummy's confinement.
21. Uncle Lan botak came over too just to be sure you are as handsome as your daddy... uhhhuk, uhuk, uhhhuukgghh.
22. Uncle Hakim and aunty Titi who shared a lot of Javanese pantang and knowledge on how to berpantang the right way. You will get to know their son, Nazim better when you grow up.
23. Aunty Shikin and Uncle Sharul. Let's hope aunty Shikin would conceive this year. Shikin! Go, go go!
24. Aunty Mylene and Uncle Kam. Thanks kiews for the fat ang pow.
25. Uncle Jon (your daddy's best man and punching bag) and Aunty Yin. Aunty Yin came over eventhough she had an asthma attack the same morning to see you.
26. Aunty Anees, Uncle Faizul and Tok Aunty Yah. Aunty Anees just went through corrective surgery on her reproductive system, let's hope she'll be blessed with rezeki soon.
FAMILY MEMBERS JAUH DAN DEKAT
Mummy's side
Tok Hisham, Uncle Ashbil, Tok War, Tok Hassan and wife, Tok Nazman and wife, Tok Aziz and wife, Tok Na, Tok Su & Pok Su, Nye (your only moyang left on my maternal side), Tok Kamal and wife. Know that you are the first male grandson to your Tok Mummy and to your Nye.
Uncle Ariff and wife and Aunty Juliana.
Daddy's side
Wan and Tok, Aunty Anyah and husband, Aunty Along and Dr. Jamali (the doctor who helped us view you in mummy's stomach), Uncle Su. You are the 7th grandchild in your dad's family.
Mummy and daddy must not forget to invite them to any of our upcoming kenduri makan and also to attend any of their celebrations.