The TTDI Nasi Lemak Street
They have been around since as long as I live here but no one knows them by their names. They are always referred to as Nasi Lemak 7-11, when there's two of them near that shop, or Nasi Lemak Mofaz, or Nasi Lemak Makcik (this refers to the stall other than the one at 7-11 or Mofaz).
I'd like people to know the names of the 'makciks' whose nasi lemak I buy most often from. There are more than these stalls in the mornings, but I will provide just those which I have tasted and want to recommend.

C :
Nasi Lemak Kak Aminah
(picture not available)
Being the first stall on the street, the smell of her nasi lemak is something you just can't miss.
What's good/different :

Lunch portion. The 'sambal' is rather thin and sweet.
'Sambal paru'
dish is what she sells that others on the street don't. Her stall closes the latest, at about 10:30 a.m.
**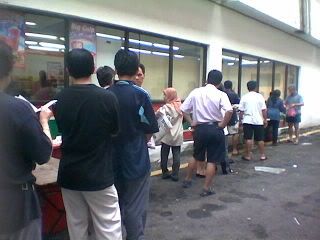 B:
Nasi Lemak Kak Midah
(my favourite!)
The long queue speaks for itself, this is a weekday queue! Also known as 'Nasi Lemak lakibini' because instead of one person multitask due to the large crowd, they still resort to tend to each pack of nasi lemak together. The pakcik will always try to crack jokes with everyone and provide extra dish for free. So romantic, it sometimes tests the patience of the customers, but we got no choice but to get used to it.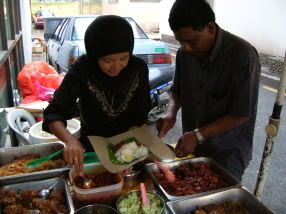 What's good/different :
Truly breakfast portion. Their
'sambal kerang'
is absolutely delicious and most fast moving dish as they are boiled and picked from the shell before they are soaked in the sambal gravy which makes it all puffy, juicy and sweet without any blood smell. The sambal is the kind which is prepared labour intensive way, boiled and stirred for long hours, that's why it is thick and filled with consistently softened sweet onions.
The steamed nasi lemak is oh so fluffy! Actually, just having a pack of normal RM1 nasi lemak from here is good enough.
**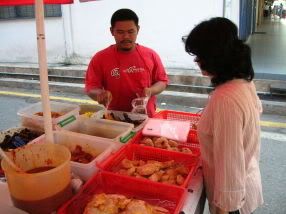 A : Nasi Lemak Kak Jah

But you'll never see Kak Jah herself at this stall, her son or husband usually tends to it.
What's good/different
: Super lunch portion. Their specialty is their
'rendang tok, daging'
, the beef in the rendang dish is cut in chunky portions, the gravy is very fragrant, thick and moist. You'll probably want to have this as an alternative once every 6 times you buy from others. Most suitable to eat on weekends where you'd afford to sleep right after.
**
X :
This nasi lemak seller sells with such sour face. Once nasi lemak Kak Midah finishes, the line will divert to her stall. She has a large supply of '
karipap
' as a means of differentiation.
iii :
I will go to this stall if I suddenly want
'chicken liver sambal'
in my nasi lemak. Her
chicken kapitan
tastes very good too.
i & ii :
I don't remember how they taste like, it's just there to prove how many nasi lemak sellers we have on one street in the mornings and all of them without fail will finish at least 70% of their supply by 10am.
Nasi Lemak half shop :
It is the prepacked ones available at the half premise mamak shop beside Pasar Mini Taman Tun (on the same street). It is only 80 cents. I don't know, it's probably both the
glow in the dark red sambal
and the extra thick banana leaf that makes you get all 'berselera' to have three packs of it for breakfast.
If I have the time, I'll cover all the nasi lemak that's available in TTDI morning and night.
Sign,
TTDI Activist.