Friday, December 28, 2007
Thursday, December 13, 2007
Little Ouches!
Dear Little Pokey,

Mummy's going through yet another pregnancy challenge.... haemorrhoids. As scary as it sounds... pffffhhh... mummy's just about to clear my annual leave, everyday trying to finish as much as possible so we can have a peaceful time together and suddenly I have to go on MC, just for a day but it's dreadful.

It all happened just out of one diarhea incident yesterday, mummy can't resist the nasi lemak Pasar Malam TTDI yang kasik nangis punya tu.

I read that it is due to pregnancy doubled blood supply and they are all concentrated in the bowel area that made it all 'kemut' so, sudden gush of stuff out can tear it up, plus, the pressure you are putting on in my pelvic area... I have a feeling it made me turn into a virgin too!

Woooweee lah after pantang ni!

The doctor stuck this white bullet up mummy's ass to get things back in, if not, mummy would be walking around in the office with very itchy belly and aching backside at the same time! Macam chimp!

Takpe, I know how to maintain macam takde apa-apa.

You don't understand what mummy is saying ye? Tak pelah.

Next week, mummy's taking your Tok Mummy along for scanning. It's been 27 years since she last visited a gynae, wave at her if you're awake ok. She has thoughtfully arranged for doa selamat for your arrival and air selusuh for me. Things mummy must learn to look after you and all your future siblings.

Your daddy has been shopping and shopping and shopping. He even wants to take a long leave during mummy's. Such a mak bonda la he. But we love discovering new and pelik inventions ppl make nowadays for parents to be.

.... we hope God will help to protect us all from lupa diri seeing that you will be far better off than how Tok Mummy, me and daddy were raised.
Tuesday, December 04, 2007
Aunty Lina, Look at me Growing in Mummy!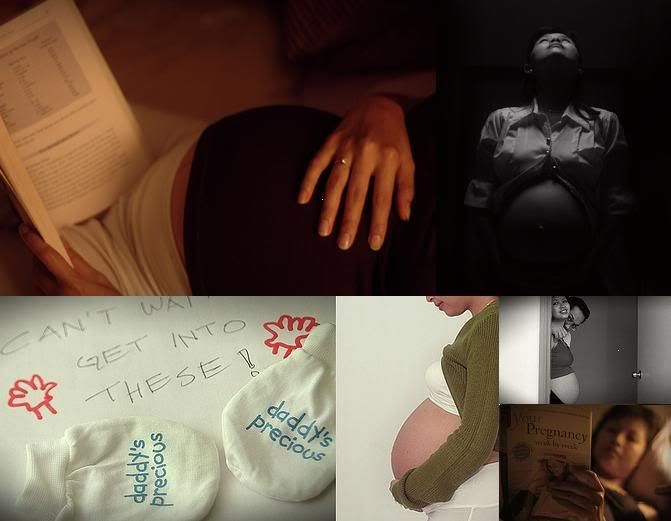 Aunty Lina,
It's getting very tight in here, mummy still doesn't know how to slow down when she walks, pity her, she must be suffering from a very bad back ache by now. At night I can feel how many times she changes her position, kejap belah kiri, kejap belah kanan, kejap seated, I try my best not to move too much so that she gets her sleep too. Though, my head is resting on her right, if she rest on her left side, I feel very uncomfortable.
My face feels itchy all the time, now that I grow some nails, I get to scratch my nose and cheeks, I think I sometimes give mummy a small electric shock when I accidentally scratched her stomach wall. Heheeeeee!
Daddy already bought me my NUK manicure set, but I think I trust mummy at cutting my nails more.
Aunty Lina,
I wonder what the real world is like. From here, I have heard P. Ramlee the Musical, I heard a big team of musical orchestra playing for the show. I also heard loud Swing and Jazz by Khadijah Ibrahim.... she must be a fat funny lady. Every morning I hear many kind of birds chirping and at night surah Al-Quran, cooking tips from somewhere, and daddy always talking non stop. When mummy and daddy snores, that's when I know it is time mummy will be lying down many hours.
Last weekend I heard laughter for 3 hours non stop Aunty! Is Harith Iskandar that funny? I was trying to clap too but there's not enough space, if not I would have given him, Papi and Douglas a standing ovation too.
Huuuaarrghhhhhh!!! I'm going back to sleep now. Why don't u go back to sleep too, make sure you recover from your flu quickly ok, I hope mummy and daddy will prepare live video cam on the day I get out of mummy's pouch so you can see me :)
Sign,
Little Pokey
Picture courtesy of talented photographer: Udeyismail. www.udeyismail.fotopages.com